1. Affiliate Marketing
Affiliate marketing ( referral marketing or influencer marketing) is a marketing strategy where you, the merchant, encourage your backers, partners, and brand advocates to refer their network to your affiliate campaign in exchange for a reward when that referral leads to an actual order. Your affiliates could be anyone including your friends, relatives, professional affiliates or your own customers. There are numerous ways to promote your referral campaign, this word-of-mouth marketing strategy could be an effective weapon to reach a broader range of customers through various connections.
Whether you are new to Shopify or expert in spreading your business to potential customers, Affiliate Marketing is a promising method that could help you earn more sales and increase revenue in the nick of time. UpPromote: Affiliate marketing has been released to help you build your affiliate campaign with NO cost while gain more customers by offering a win-win relationship with your referral partners.
2. Why UpPromote: Affiliate Marketing?
Multiple programs with different commission types
Users are able to create many programs with different types of commissions. Once an affiliate signs up, you can match them with a proper commission type.
Affiliate performance will be tracked via referral order
Any affiliate registering will receive a referral link to introduce your store. Any order brought via that link will be automatically tracked. You can control these orders by either approving or denying in case find any suspicious activity.
Email template
A list of email templates established based on affiliates' triggers is provided, you can control active status of each email or edit your own content.
3. How does UpPromote: Affiliate Marketing work?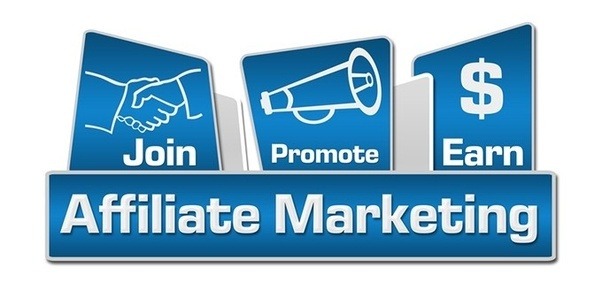 a. Install the app and register an account for your store security;
b. An affiliate registration form is provided for you to promote;

c. Affiliates who register will get their referral links of your store, their role is to recommend it to customers;
d. Orders via referral link(s) would become referral order(s);
e. After you get paid from referral orders, the order status will be automatically updated in Referral section for you to review and decide whether or not to pay the commission to affiliates.

f. Payment will be handled manually via Paypal or another payment method.
Note:
In case you want to inform your affiliates of special announcement or arrangement, visit Settings and click Affiliate Guide section to customize content.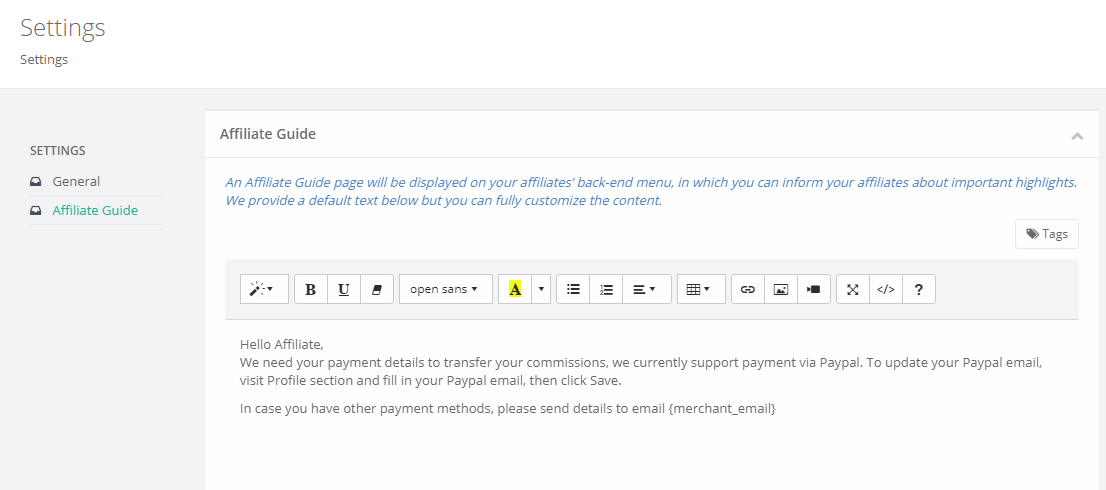 In the Email section, you can control their active status of each email by clicking On/Off button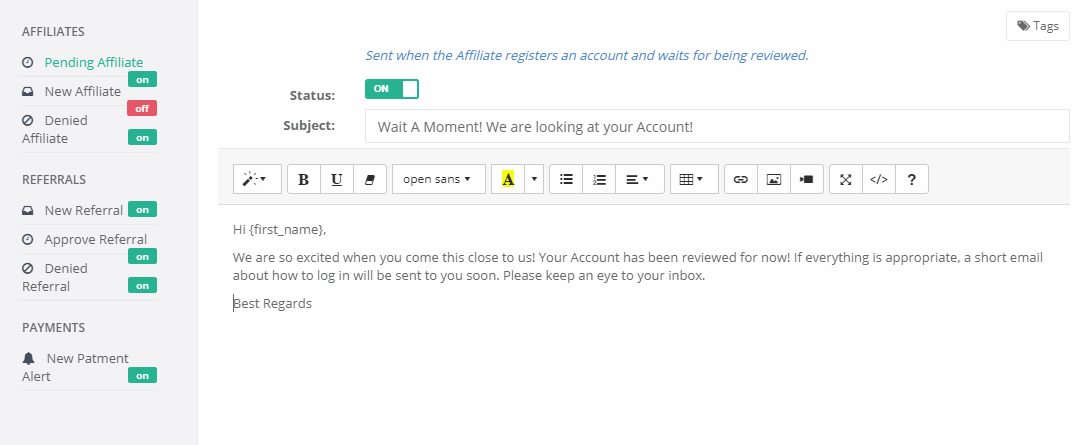 Besides, you can keep track with affiliates performance in Dashboard, you can filter referral partner base on program or time range, follow their total sales, orders or clicks (click on referral links)

4. How do you pay your affiliates?
Affiliates who sign up will be reviewed by you to become active partners. After being accepted, they will be asked to enter their Paypal email through which you would send their commissions. In case you use another payment method, contact your partner via email or ask them to contact you for discussion.
Payment will be sent by merchant manually, once you sent payment to affiliates, click Send Payment on the Payment section and the payment status will be updated in your affiliates' dashboard. Payment will be sent in bulk. You can negotiate a payment schedule with your referral or inform them in the Affiliate Guide in Setting.

Here is a brief summary of our Affiliate app, if you are looking for an inexpensive but efficient marketing method, UpPromote: Affiliate Marketing is for you. The app is completely FREE for all current users!
We are sorry that this post was not useful for you!
Let us improve this post!
Tell us how we can improve this post?